Mother's Day is a celebration honoring motherhood and the influence of mothers in society. The 6th Annual Best Buddies' Celebration of Mothers will honor the gifts of love and friendship that mothers give to their children, especially the amazing mothers of our Best Buddies participants. The celebration will also feature sumptuous cocktails, food, live performances, a special award ceremony honoring the Mother of the Year, Holly Robinson Peete, and fun activities for the entire family!
Actress, author, talk show host, activist and philanthropist, Holly Robinson Peete has been touched by the entertainment industry almost all of her life. Her career as an actress dates back more than four decades and has led her to becoming a voice for her father, her son and her community.
In 1999, Robinson Peete and her husband, former NFL quarterback Rodney Peete, formed the HollyRod Foundation, inspired by her father's courageous battle with Parkinson's disease, with the mission to help improve the quality of life of people with Parkinson's. Then in 2000, inspired by their eldest son's autism diagnosis, HollyRod Foundation's mission expanded to provide support and resources to those affected by an autism diagnosis. Most recently the foundation opened RJ's Place Vocational and Family Support Services Center in Los Angeles. RJ's Place is a 2,500 square foot facility created with the objective of providing training and job opportunities for young adults with Autism Spectrum Disorder (ASD).
Holly's mantra is "I wouldn't change my child for the world- but I would change the world for my child."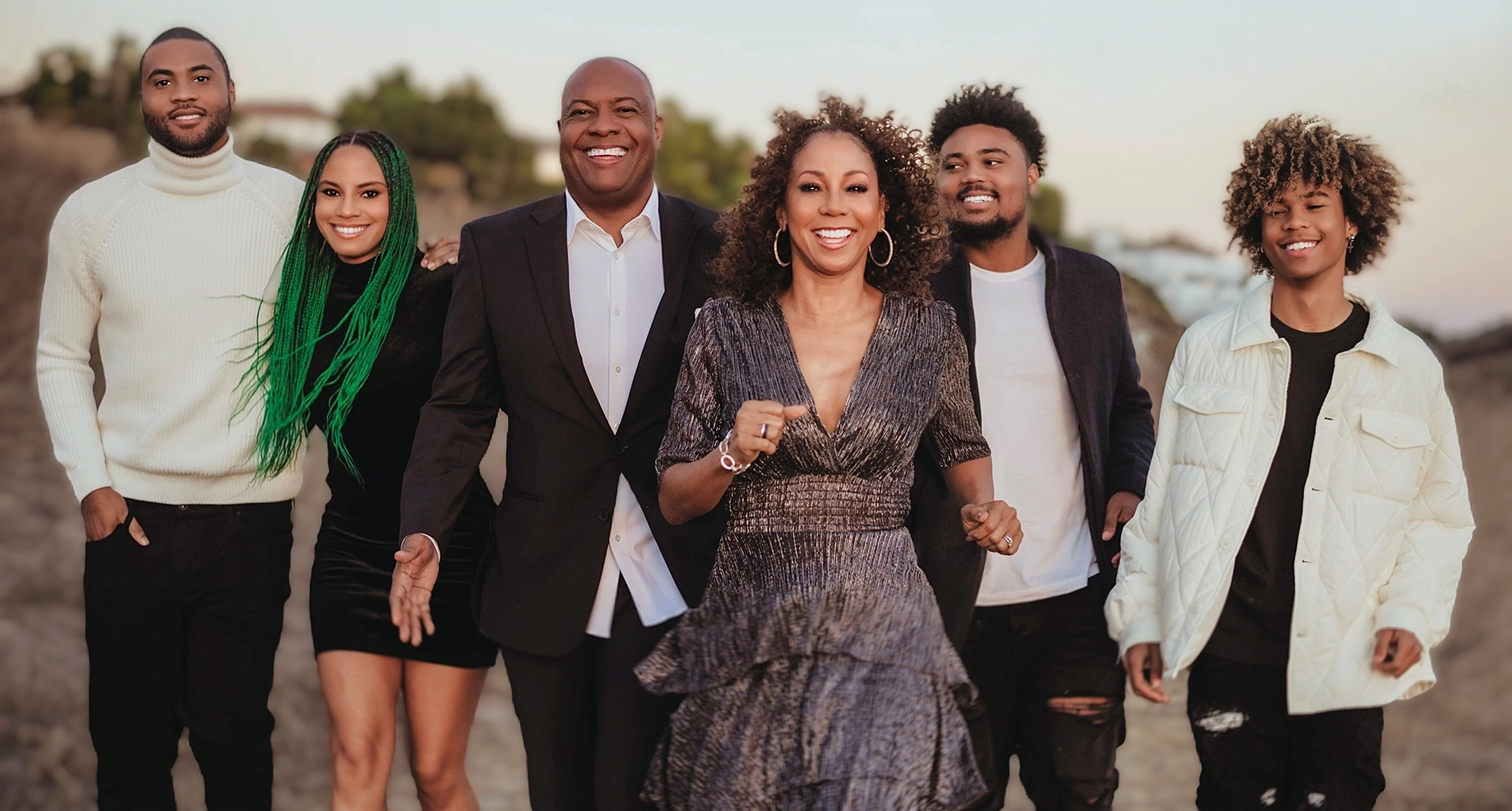 Holly Robinson and her family.
Committee Co-Chairs
Lyndie Benson / Max and Noah Gorelick
Cindy Crawford / Kaia and Presley Gerber
Host Committee Mothers and their Children
Shea, Jona, and Brian Bowen Smith
Susan Culpo / Olivia, Aurora, Peter, Gus, and Sophia
Andraya Howard / Kniko Howard and Jru Scandrick
Nicole Williams English / India English
Kelly Eli / Carson Meyer
Rory, Mark, Bridget, Zack, and Georgia Kennedy Bailey
Garcelle Beauvais / Jax and Jaid Nilon
Maureen McCormick / Natalie Cummings
Nancy O'Dell / Ashby Zubulevich
Cheryl Hines / Catherine Young
Jae Sue Park / Ruby
Marilyn Rotter / Dan
Liane, Cole, Ava, and Richard Weintraub
Rima Fakih Slaiby / Rima, Joseph, Amira
*In processs of formation.

All funds raised benefit Best Buddies – the world's largest organization dedicated to ending the social, physical and economic isolation of the 200 million people with intellectual and developmental disabilities (IDD). Our programs empower the special abilities of people with IDD by helping them form meaningful friendships with their peers, secure successful jobs, live independently, improve public speaking, self-advocacy and communication skills, and feel valued by society.
The IDD community that Best Buddies serves includes, but is not limited to, people with Down Syndrome, Autism, Fragile X, Williams Syndrome, Cerebral Palsy, traumatic brain injury and other undiagnosed disabilities.